Gyros Protein Technologies introduces PurePep® Sonata+ peptide synthesizer
March 2, 2022
| Maritha Lundin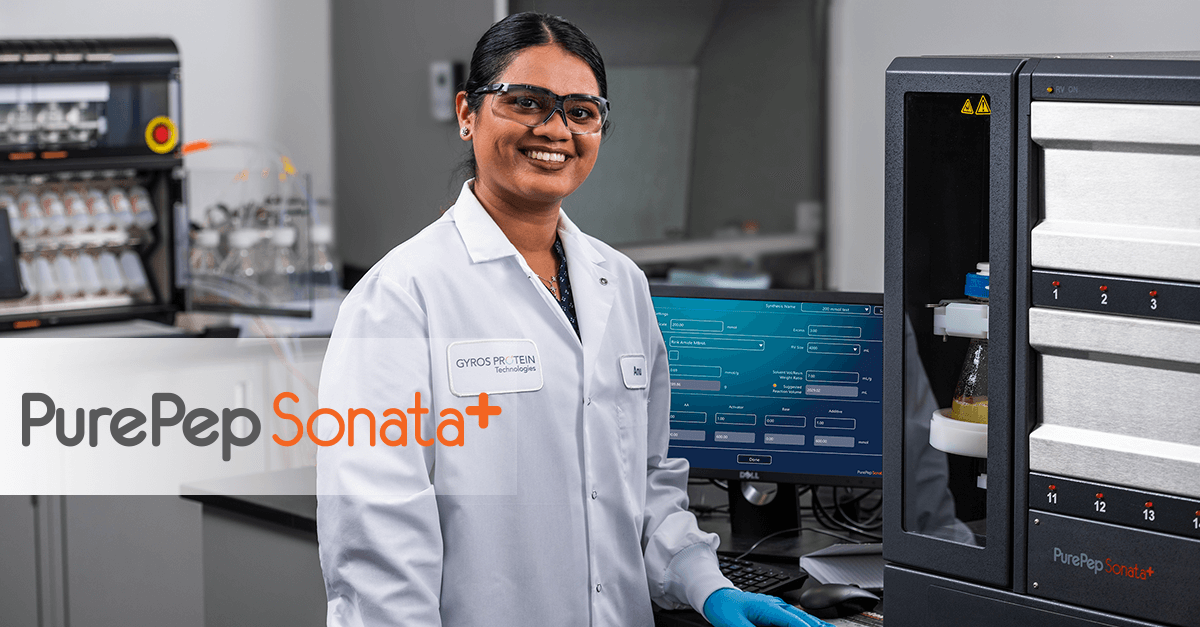 Next-generation mid-pilot scale peptide synthesizer provides more reliable, robust, and improved workflows
Uppsala, Sweden, 02 March 2022: Gyros Protein Technologies AB, a leading provider of peptide synthesizers and reagents and a pioneer in automated nanoliter-scale immunoassays, today announced the launch of PurePep® Sonata®+, a mid-pilot scale peptide synthesizer. The new system is an upgraded version of the Company's previous model, Sonata® XT, known for its reliability and robustness, to further strengthen the Company's offering.
The upgrade, PurePep Sonata+, builds on the ability of Sonata XT through the introduction of real-time flow technology, a non-invasive method to continually monitor the flow rate of fluids within the system, which enables accurate and precise fluid transfers for a range of viscosities. The need to calibrate is thereby minimized, and workflows that previously required one day for fluid calibration are significantly shortened. The Company's proprietary valve block system, the PurePep Pathway, is also integrated to ensure no cross-contamination, for reliable peptide purity. With a reduced calibration time to streamline and shorten workflows, improved reliability and robustness, the new peptide synthesizer is easy to operate, and the intuitive software platform, designed for 21 CFR Part 11 compliance, facilitates an easy transition from the bench scale PurePep® Chorus® to mid-pilot scale.
Mark Vossenaar, Vice President, General Manager, Gyros Protein Technologies, commented: "The introduction of PurePep Sonata+ represents our commitment to building on the Company's proven expertise and heritage to implement innovative technologies that continue to improve performance. With new intuitive software and hardware improvements, PurePep Sonata+ is much easier to operate and offers even greater reliability than Sonata XT, reinforcing confidence in our peptide synthesizers for research and development."
Beta site scientist, added: "We beta-tested PurePep Sonata+ and found the platform easy-to-use whilst yielding robust, reliable results. The reduced calibration is a great improvement and, with software that allows us to program new syntheses as we run another, it is an invaluable asset for delivering high purity peptides more quickly."
Notes to Editors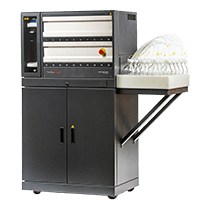 PurePep® Sonata®+ Peptide Synthesizer
For high-resolution images please contact Zyme Communications.
Media Contact:
Dr Ben Rutter
Zyme Communications:
Tel: +44 (0) 7920 770 935
Mark Vossenaar
Gyros Protein Technologies
Tel: +31 6 34735894
About Gyros Protein Technologies
Gyros Protein Technologies enables bioanalytical solutions and peptide synthesis, helping scientists increase biomolecule performance and productivity in research, drug discovery, pre-clinical and clinical development, and bioprocess applications. Proprietary high performance nanoliter-scale immunoassay platforms, Gyrolab xPand, and Gyrolab xPlore™, and Gyrolab immunoassay kits are used by scientists at leading pharmaceutical, biotech, CRO, and CMO companies in the development and manufacturing of various biotherapies including those based on peptides, antibodies, cell and gene therapies and vaccines. Gyrolab immunoassays provide key workflow advantages of speed, automation, and low reagent usage, and assay quality advantages of wide dynamic range with robust precision and reproducibility in applications including pharmacokinetics/pharmacodynamics, immunogenicity, and analysis of bioprocess-related impurities. Our low to mid-scale peptide synthesizer platforms, PurePep® Chorus, Symphony® X, and PurePep® Sonata+, and chemistries deliver uncompromising purity, flexibility, and quality synthesis for discovery and pre-clinical studies of simple to complex multifunctional peptides. Our peptide synthesis and bioanalytical solutions accelerate the discovery, development, and manufacturing of safer biotherapeutics. Gyros Protein Technologies is part of the Biopharmaceutical Development Division of Mesa Laboratories, Inc. (Nasdaq: MLAB).
Forward Looking Statements
This release contains "forward-looking statements" – that is, statements that relate to future, not past, events. In this context, forward-looking statements often address our expected future business and financial performance and financial condition, and often contain words such as "expect," "assume," "anticipate," "intend," "plan," "believe," "seek," "see," or "will." Such statements involve risks and uncertainties, which could cause actual results to vary materially from those expressed in or indicated by the forward-looking statements. These risks and uncertainties include the duration and severity of the COVID-19 pandemic, expectations regarding our products, our ability to develop and market new or improved products, our ability to compete effectively, international legal and regulatory risks, and product quality and liability issues. For further information regarding our risks and uncertainties, please refer to the "Risk Factors" and "Management's Discussion and Analysis of Financial Condition and Results of Operation" in Mesa Laboratories, Inc.'s public reports filed with the Securities and Exchange Commission, including our most recent Annual Report on Form 10-K and our Quarterly Reports on Form 10-Q. We caution you not to place undue reliance on forward-looking statements, which reflect an analysis only and speak only as of the date hereof. We disclaim any obligation to update these forward-looking statements.