Gyrolab Technology to be incorporated into Jefferson Institute for bioprocessing specialized teaching curriculum and training programs
March 16, 2020
| Gyros Protein Technologies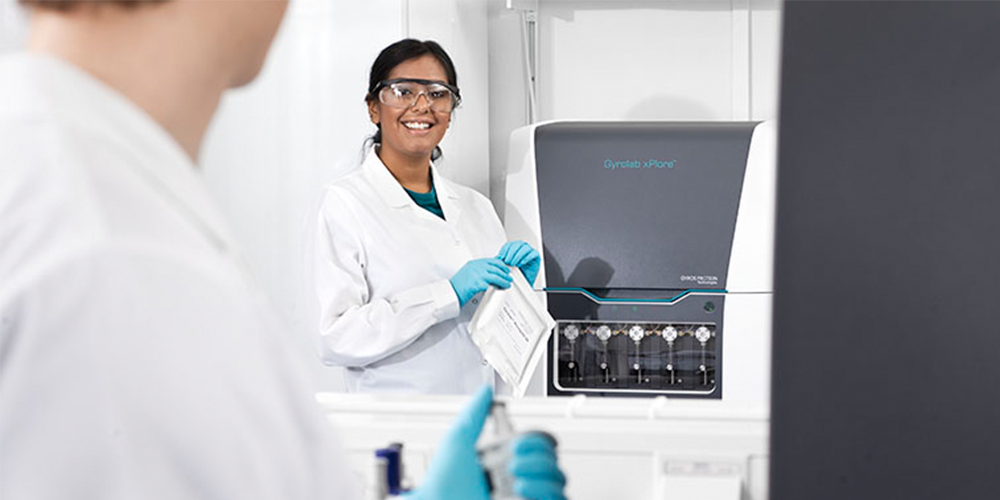 Uppsala, Sweden, 16 March 2020: Gyros Protein Technologies AB, a Mesa Laboratories, Inc. (NASDAQ:MLAB) company, and pioneer in automated nanoliter-scale immunoassays and leading provider of peptide synthesizers and reagents, and the Jefferson Institute for Bioprocessing (JIB) at Thomas Jefferson University, a leading center of excellence providing advanced training to the bioprocessing industry, today announced that Gyrolab xPlore™ immunoassay system from Gyros Protein Technologies will be integrated into JIB's curriculum. JIB's industry training programs will also benefit from the technology to accelerate the generation of biologics for preclinical development.
Students at JIB will get hands-on experience with the Gyrolab® immunoassay system and ready-to-use kits, to gain enhanced industry skills, working with cutting-edge technologies that streamline and advance biologics development. Gyrolab systems and kits will be incorporated into JIB's academic courses, such as its specialist graduate degree and upcoming PhD programs, in addition to its industry training programs that advance the skills and knowledge of scientists, engineers, and technicians who work in process development and biomanufacturing of biopharmaceuticals and biologics.
Gyrolab platforms miniaturize, integrate and automate bioanalytical processes, improving workflow efficiency and reducing risk in bioprocessing. JIB, the National Institute for Bioprocessing Research and Training's (NIBRT) exclusive North American training partner, combines commercial single-use processing equipment with an internationally recognized curriculum, and is focused on the investment in and training of a new bioprocess engineering workforce and increasing the skills of those in the industry, to support the exponential growth in biopharmaceutical research and development.
Dan Calvo, President of Gyros Protein Technologies AB, said: "While biologics constitute more than 40% of the pharmaceutical industry pipeline, only a few places around the world are dedicated to training the workforce to meet this demand. We are looking forward to working with JIB, a leading specialized training institute in the industry, to integrate Gyrolab technologies within their training programs."
Dr Parviz Shamlou, Executive Director, Jefferson Institute for Bioprocessing, commented: "It is essential our courses offer students the opportunity to train using technologies at the leading edge of the field. Real world experience of the Gyrolab platform and kits enable our researchers to graduate with advanced skills that add value in the biopharma industry."
Notes to editors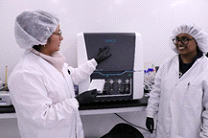 Image: Gyrolab xPlore™ in Jefferson Institute for Bioprocessing laboratory
Media contacts:
Katie Odgaard, Zyme Communications
Zyme Communications
Tel: +44 (0)7787 502 947
Dan Calvo
President, Gyros Protein Technologies
Email: dan.calvo@gyrosproteintech.com
Tel: +1 908-755-0011 (US)
Tel: + 46 (0) 18 56 6300 (Sweden)
To opt-out from receiving press releases from Zyme Communications please email info@zymecommunications.com. To view our privacy policy, please click here.
Gyros Protein Technologies enables peptide synthesis and bioanalytical solutions that help scientists increase biomolecule performance and productivity in research, drug discovery, pre-clinical and clinical development, and bioprocess applications. Our low to mid-scale peptide synthesizer platforms are the Tribute®, Prelude® X, Symphony® X, and Sonata®. These solutions and our chemistries deliver uncompromising purity, flexibility, and quality for discovery and pre-clinical studies of simple to complex multifunctional peptides. Proprietary high performance nanoliter-scale immunoassay platforms, Gyrolab® xPand, Gyrolab xP workstation and Gyrolab xPlore™, are used by scientists in leading pharmaceutical, biotech, CRO, and CMO companies for bioanalytical applications such as pharmacokinetics/pharmacodynamics, immunogenicity, and quantitating bioprocess-related impurities. Our peptide synthesis and bioanalytical solutions accelerate your discovery, development, and manufacturing of safer biotherapeutics.
Forward Looking Statements
This press release may contain information that constitutes "forward-looking statements." Generally, the words "believe," "estimate," "intend," "expect," "project," "anticipate," "will" and similar expressions identify forward-looking statements, which generally are not historical in nature. However, the absence of these words or similar expressions does not mean that a statement is not forward-looking. All statements that address operating performance, events or developments that we expect or anticipate will occur in the future — including statements relating to revenues growth and statements expressing general views about future operating results — are forward-looking statements. In addition, forward-looking statements include statements in connection with the ability to successfully integrate the businesses, risks related to disruption of management time from ongoing business operations due to the acquisition of GPT, the risk that any announcements relating to the transaction could have adverse effects on the market price of Mesa Labs' securities, the risk of any unexpected costs or expenses resulting from the transaction, the risk of any litigation relating to the transaction, the risk that the transaction and its announcement could have an adverse effect on the ability of Mesa Labs and GPT to retain customers and retain and hire key personnel and maintain relationships with their suppliers and customers and on their operating results and businesses generally, the risk that the combined company may not operate as effectively and efficiently as expected, the risk that the combined company may be unable to achieve synergies or other anticipated benefits of the transaction or that it may take longer than expected to achieve those synergies or benefits and other important factors that could cause actual results to differ materially from those projected. Management believes that these forward-looking statements are reasonable as and when made. However, caution should be taken not to place undue reliance on any such forward-looking statements because such statements speak only as of the date when made. We undertake no obligation to publicly update or revise any forward-looking statements, whether as a result of new information, future events or otherwise, except as required by law. In addition, forward-looking statements are subject to certain risks and uncertainties that could cause actual results to differ materially from our historical experience and present expectations or projections. These risks and uncertainties include, but are not limited to, those described in our Annual Report on Form 10-K for the year ended March 31, 2019, and those described from time to time in our subsequent reports filed with the Securities and Exchange Commission.