Gyrolab Immunoassay Solutions
Maximize your productivity in the lab by running immunoassays at nanoliter scale. Shorten time to insights that make a difference.
Learn More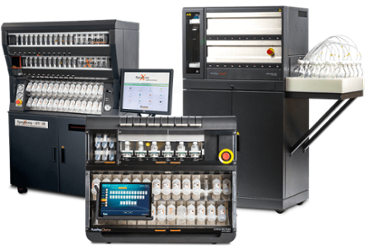 Protein Technologies Peptide Synthesizers
Achieve laboratory goals faster with innovative automated peptide synthesis. Our uniquely accurate and flexible solutions scale to fit your research needs.
Learn More
Accelerating breakthroughs
in biotherapeutics
Gyros Protein Technologies supports critical work in science and medicine, delivering transformational data analysis solutions that speed time to results.

Multiplying results
Gyros Protein Technologies is part of Mesa Labs, a growing confederation of leading-edge brands dedicated to protecting critical environments, products, and people. These connections fuel our innovation and enable us to better support the critical work happening in our customers' labs around the world.
Formed by the merger of Gyros AB, founded in 2000, and Protein Technologies, Inc., founded in 1985, Gyros Protein Technologies AB helps scientists in academia and industry to increase biomolecule performance and productivity in research, drug discovery, pre-clinical and clinical development, and bioprocess applications. As a leading provider of solutions for peptide synthesis and bioanalysis, Gyros Protein Technologies delivers solutions that accelerate the discovery, development, and manufacture of safer biotherapeutics.