Gyros Protein Technologies introduces Gyrolab Bioaffy 4000 CD to extend sensitivity of immunoassay CD range
January 27, 2021
| Gyros Protein Technologies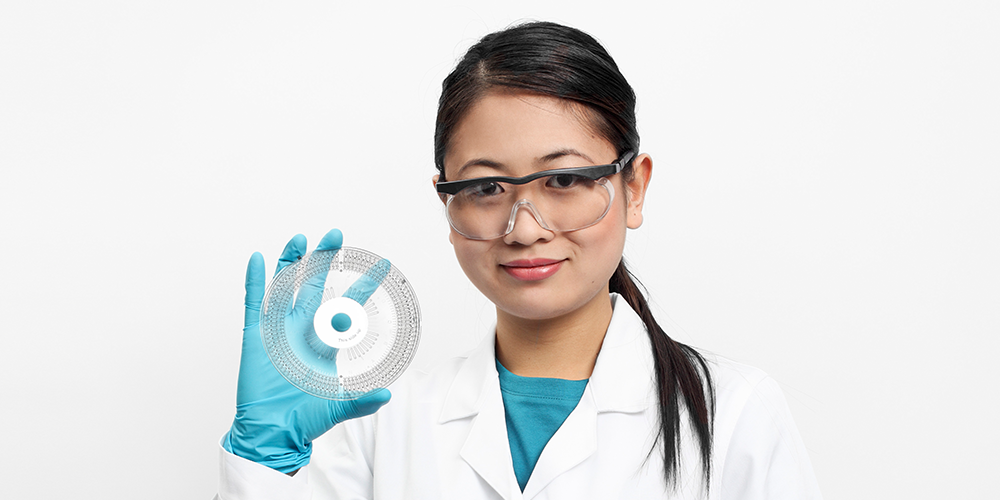 Enables researchers to generate more data in less time to support both preclinical and clinical studies
Uppsala, Sweden, 27 January 2021: Gyros Protein Technologies AB, a pioneer in automated nanoliter-scale immunoassays and a leading provider of peptide synthesizers and reagents, today announced the introduction of Gyrolab® Bioaffy™ 4000 CD for immunoassay applications in biotherapeutic workflows. The new Gyrolab Bioaffy 4000, with a 4000 nL sample volume, is based on the proven design of Gyrolab Bioaffy 1000 CD, allowing seamless assay transfer between CD types and enabling researchers to improve productivity.
The new CD adds to the Company's existing immunoassay technology, including Gyrolab Bioaffy CDs, which together cover broad analytical ranges of more than 6 logs. Gyrolab Bioaffy 4000 CD is designed to meet customer requests for extended sensitivity for more demanding analytical needs, such as PK (pharmacokinetics) assays requiring higher sensitivity and biomarker quantification. This new CD offers assay sensitivity down to at least the low pg/mL range and can be used as part of a Gyroplex™ panel where up to five singleplex biomarker assays (or any combination of assays) can be separately developed and validated for sample analysis in the same run under the conditions that are optimal for that particular assay. Researchers can now generate more data in less time for a broader range of analytical applications, helping to speed the development of novel biotherapeutics, including cell and gene therapies.
Mark Vossenaar, Vice President, General Manager, Gyros Protein Technologies, commented: "The addition of Gyrolab Bioaffy 4000 CD to our Bioaffy CD family represents our commitment to developing new high value products, which enable customers to improve productivity in their development of safer and more efficacious biotherapies and vaccines. We believe this new CD will address the demand, especially in phases 1 – 3 clinical trials, for increased flexibility, compatibility with various matrices, and the possibility of running individual optimized assays with no cross-talk between assays or samples -- enabling the confident analysis of different analytes with widely varied concentrations in the same run."
Gyrolab Bioaffy CDs form the core of Gyrolab immunoassay technology, which is used by a majority of the world's leading biopharmaceutical companies, CROs and CMOs. Gyrolab CD-based immunoassay technology accelerates biopharmaceutical development and production, and delivers the performance needed for time critical workflows, including rapid assay development, handling small sample and reagent volumes, and the ability to measure over a broad dynamic range with minimal matrix interference.
Media contact:
Katie Odgaard
Zyme Communications
Tel: +44(0)7787 502 947
Mark Vossenaar
Gyros Protein Technologies
Tel: +31 6 34735894
Gyros Protein Technologies enables peptide synthesis and bioanalytical solutions that help scientists increase biomolecule performance and productivity in research, drug discovery, pre-clinical and clinical development, and bioprocess applications. Our low to mid-scale peptide synthesizer platforms are the new PurePep® Chorus, Symphony® X, and Sonata® XT. These solutions and our chemistries deliver uncompromising purity, flexibility, and quality synthesis for discovery and pre-clinical studies of simple to complex multifunctional peptides. Proprietary high performance nanoliter-scale immunoassay platforms, Gyrolab® xPand, Gyrolab xP workstation and Gyrolab xPlore™, and Gyrolab immunoassay kits are used by scientists at leading pharmaceutical, biotech, CRO, and CMO companies in the development and manufacturing of various biotherapies including those based on peptides, antibodies, and gene therapies and vaccines. Gyrolab immunoassays provide key workflow advantages of speed, automation, and low reagent usage, and assay quality advantages of wide dynamic range with robust precision and reproducibility in applications including pharmacokinetics/pharmacodynamics, immunogenicity, and analysis of bioprocess-related impurities. Our peptide synthesis and bioanalytical solutions accelerate the discovery, development, and manufacturing of safer biotherapeutics. Gyros Protein Technologies is part of the Biopharmaceutical Development Division of Mesa Laboratories, Inc. (Nasdaq: MLAB).
Forward Looking Statements
This release contains "forward-looking statements" – that is, statements that relate to future, not past, events. In this context, forward-looking statements often address our expected future business and financial performance and financial condition, and often contain words such as "expect," "assume," "anticipate," "intend," "plan," "believe," "seek," "see," or "will." Such statements involve risks and uncertainties, which could cause actual results to vary materially from those expressed in or indicated by the forward-looking statements. These risks and uncertainties include the duration and severity of the COVID-19 pandemic, expectations regarding our products, our ability to develop and market new or improved products, our ability to compete effectively, international legal and regulatory risks, and product quality and liability issues. For further information regarding our risks and uncertainties, please refer to the "Risk Factors" and "Management's Discussion and Analysis of Financial Condition and Results of Operation" in Mesa Laboratories, Inc.'s public reports filed with the Securities and Exchange Commission, including our most recent Annual Report on Form 10-K and our Quarterly Reports on Form 10-Q. We caution you not to place undue reliance on forward-looking statements, which reflect an analysis only and speak only as of the date hereof. We disclaim any obligation to update these forward-looking statements.